Demonstration of stable retention time with Aurora Series columns
A HeLa tryptic digest sample was injected on 6 columns from independent production batches. The retention times for 15 selected peptides were analysed to demonstrate the intra- and inter-column retention time stability for Aurora Series columns. The 3 points for each column represent run number 2, 5 and 10. Numbers in orange correspond to the peptide description in Table 1.
This was achieved under the following conditions:
Column:


25cm Aurora Ultimate column


Sample:


100ng

HeLa tryptic digest

Gradient:


5% to 35% B 90min gradient


Flow Rate:

This demonstrates that retention times remain consistent across all peptides and Aurora Series columns.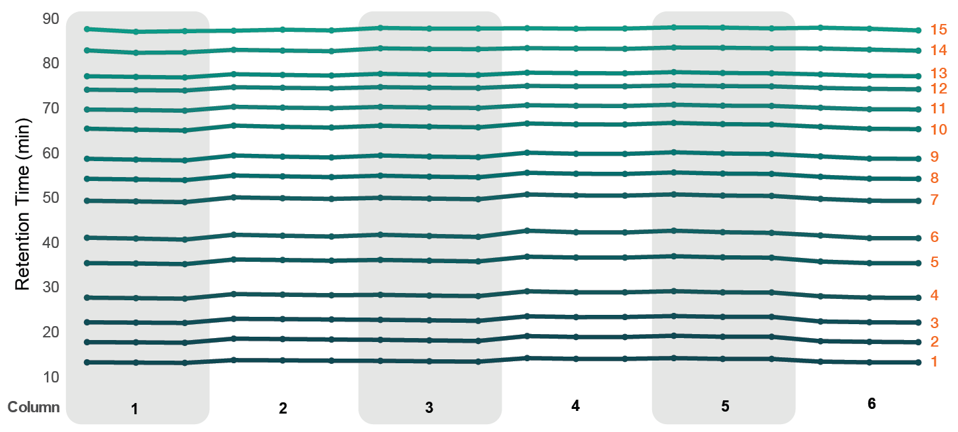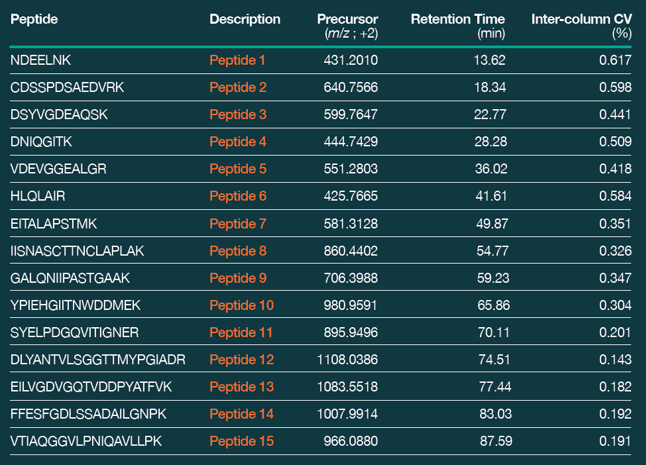 ---
Tryptic digested Hela cell lysate was injected and separated using our 180 samples per day method and data dependent acquisition using PASEF to compare the retention time across s

amples.
This was achieved under the following conditions:
5cm Aurora Rapid150 column




80ng

H

ela cell tryptic digest




5% to 34%

B 5min gradient




Flow Rate:

2ul/min

Temperature:

Room temperature
This demonstrates that our 5cm Aurora Rapid150 column achieves highly reproducible peptide retention times.