Expected performance of 5cm Aurora Rapid75 column
A Hela tryptic digest (1 ng) was separated on a 5cm Aurora Rapid75 column using
a Thermo Scientific Vanquish Neo UHPLC and TSQ Quantis across a 15 min sample gradient at 100 nl/min. The extracted ion chromatograms for 7 selected peptides from the analysis are shown. The average Full Width at Half Maximum (FWHM, seconds) for each peptide across 30 runs is shown above each peak.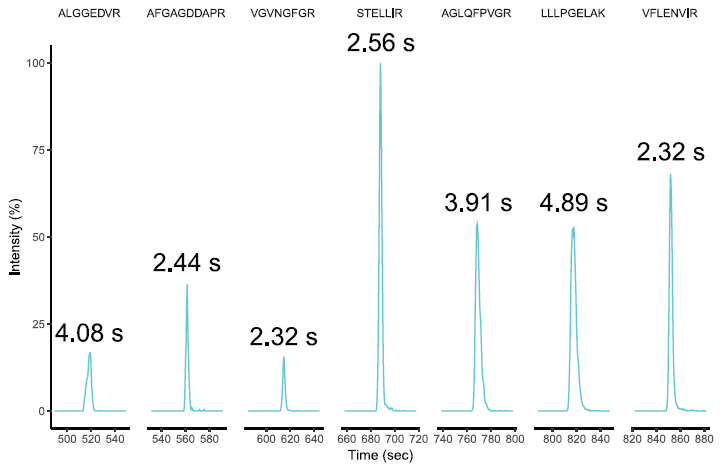 ---
The retention times of the 7 peptides analysed in the adjacent figure were
plotted across 30 runs to demonstrate retention time stability for the 5cm
Aurora Rapid75 column.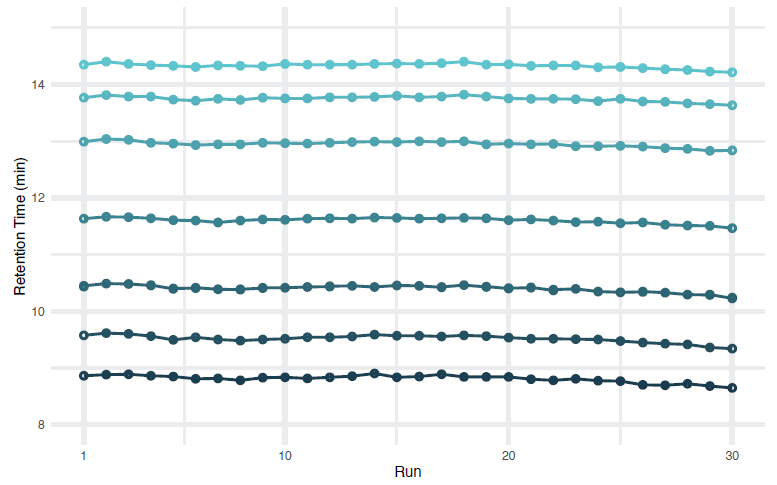 ---
A dilution series of a HeLa tryptic digest was separated on a 5 Aurora Rapid75
column using an Evosep One and Bruker timsTOF SCP (dia-PASEF) using an 80 samples per day method, n = 6. Data courtesy of Dr Christoph Krisp (Bruker), Dorte Bekker-Jensen and Dr Nicolai Bache (Evosep).